Notre équipe
The entire Parkinson Estrie team, whether it be the board of directors, the staff or our ambassador, are all dedicated people who are directly or indirectly affected by Parkinson's disease and who actively collaborate to improve the quality of lives of people with the disease and their loved ones.
Our ambassador
I am happy to be Parkinson Estrie's ambassador since 2019.
I got involved in this cause out of solidarity with my father, André L'Espérance, who has the disease. When I told him about the possibility of being ambassador for Parkinson Estrie, he encouraged me to accept the role of promoting the essential mission of Parkinson Estrie.
It is a very important organization for my family and me and it is very clear to me that the goal of Parkinson Estrie, to improve the quality of life of people with the disease as well as their caregivers and their families, is essential. In recent years, I have seen firsthand the quality of the services offered and all the good that Parkinson Estrie does in its community.
One of the things I admire the most is the fact that Parkinson Estrie has been able to create a community of people affected, directly or indirectly, by the disease, in which people can share their experiences and participate in activities to increase their well-being.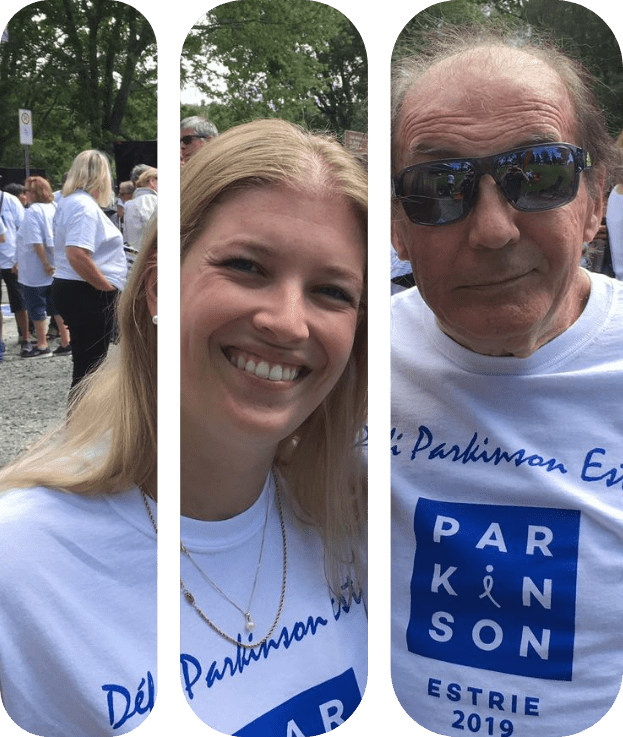 Élyse L'Espérance
President and Deputy General Director
PAL+, tourism experience creator
Parkinson Estrie's Ambassador
I am proud to be able to get involved in an organization and with a dedicated team that cares about its mission and the well-being of its members.
Our Board of Directors
Gabriel Demers
Acting President
Lawyer at Monty Sylvestre
André Lessard
Acting Vice President
Retired from teaching
Denis Bégin
Administrator
Retired Trucker and in charge of the Fruitcake fundraiser
Élyse Lespérance
Administrator
President and Deputy General Director of PAL+
Guylaine Lefebvre
Administrator
Retired respiratory therapist, responsible for the walking club and the choir
Lise Perreault
Administrator
Retired from the Government of Quebec and suffering from Parkinson's since 2020
Pierre Thérien
Administrator
André Harbec
Administrator
Our permanence
Charlène Brulard
General Director
Guylaine Morin
Accounting Technician
Sylvie Moffatt
Administrative Assistant
Daphné Masson
Responsible for Member Activities and Communications